First same-sex weddings take place in England and Wales
03/29/2014 10:38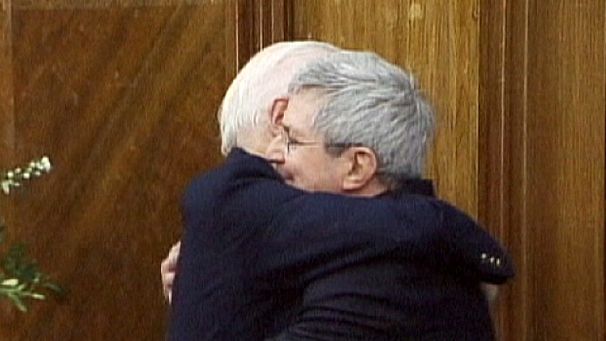 Some same-sex couples in England and Wales wasted no time in expressing their commitment as gay marriage became legal across the two nations at midnight on Friday.
Couples across the two countries competed to become the first to marry under the new Marriage (Same-Sex Couples) Act.
England and Wales are the latest in a series of European countries to legalise same-sex nuptials, an act British Prime Minister David Cameron said sends out a "powerful message" about Britain.
The new law was approved in July last year, but gay couples were only able to register their intention to marry on March 13.
For some, such as Brighton newlyweds Neil Allard and Andrew Wale, it has been a long time coming.
"The ceremony was much more moving than expected," they said. "Because we made our commitment to each other seven years ago, really, so it's a lovely thing to be able to formalise it and get it protected by law."
Speaking from outside the ceremony, euronews correspondent Emily Dexter said:
"Scenes of joy, excitement and incredible emotion here at The Royal Pavillion in Brighton, when history was made just after midnight, when Neil Allard and Andrew Wale became the first same-sex couple to be married in the city. Many more same-sex weddings will be happening across the country in the coming hours."
In Brighton alone five same-sex marriages are scheduled for March 29; the first day the Act comes into force.
Rainbow flags are being hung all over Britain to celebrate the law, with one flying at the heart of Westminster and another above the Cabinet Office in London. EuroNews