EU clinches breakthrough deal on banking union
12/13/2012 06:43
Finance ministers have agreed to hand the ECB powers to police eurozone banks in a new phase of closer integration to underpin the euro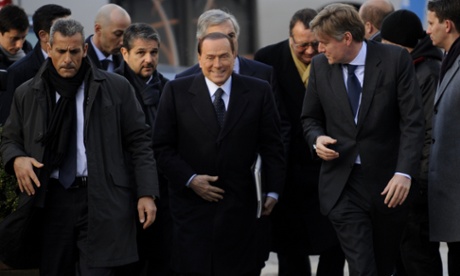 Now the current Italian prime minister Mario Monti is speaking in Brussels but will not be drawn on his future. He says:
It seems more important that the next Italian government stays committed with the EU policy than to speak on my personal situation.
Best reaction BY FAR by @Mosxovas: I hear we got the tranche, going out to spend it like a motherf...r, might even switch the heating on
In Greece, today's decision to release €41.9bn of aid to the crisis-hit country has been greeted expected with joy and jubilation, reports our correspondent Helena Smith. She writes:
All's well that end's well. Greek officials, predictably, are both thrilled by the announcement. After an endless summer of nail-biting negotiations the relief both in Athens - and among the Greek delegation in Brussels - is almost palpable.
"This is a big day for Greece," the country's finance minister Yiannis Stournaras told reporters. In Athens one senior official described the decision to release the aid as "a dream come true."
In Brussels, the European commission president, José Manuel Barroso, has told journalists he has spoken to Berlusconi. He said:
I spoke with Mr Berlusconi yesterday early afternoon. It was a personal conversation. I stressed importance of stability in Italy.
Back in the UK, the CBI industrial trends showed a small improvement in December, suggesting that manufacturing output may have stabilised towards the end of the year.
The survey shows that the balance of manufacturers reporting that their orders are at normal levels jumped to -12% in December from -21% in November and -23% in October. This took it appreciably above the long-term average of -17% for the orders balance.
Howard Archer of IHS Global Insight said:
A significantly improved December CBI industrial trends survey offers some grounds for optimism for manufacturers going into 2013 after they suffered a pretty torrid end to a largely difficult 2012. However, domestic and international conditions clearly remain challenging for manufacturers and they are unsurprisingly cautious over the outlook.
Furthermore, it still looks highly likely that manufacturing output will see appreciable contraction in the fourth quarter and will weigh down on GDP. Given that manufacturing output plunged 1.3% month-on-month in October with most sectors suffering, it will have taken a substantial pick up in output in November and December to prevent marked contraction in the fourth quarter and the survey evidence from the CBI and the purchasing managers suggest this has not happened.
The leaders are arriving for an enlarged summit of the European People's party. This involves EU and non-EU heads of state and government and opposition leaders along with the presidents of the European council and the European commission, to prepare for the European council later in the day, which continues tomorrow.
And among the star guests, none other than former Italian prime minister, Silvio Berlusconi. Guardian