CBO report forecasts unsustainable debt in long term
08/26/2015 13:19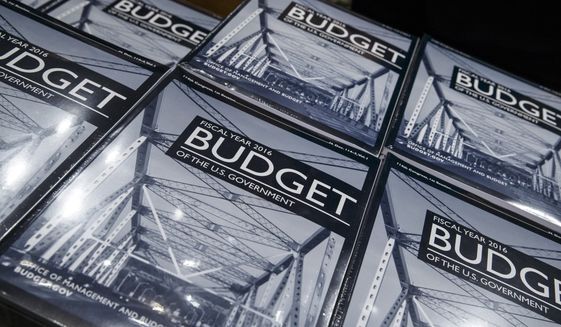 The economy is sluggish but growing and inflation remains low, painting a decidedly mixed picture for the federal government, the Congressional Budget Office reported Tuesday, saying the fiscal situation is improving this year but will snap back by 2018 to swelling deficits and unsustainable debt.
The inflation rate is so low that Social Security beneficiaries probably won't get a cost-of-living raise after this year, the CBO said. But tax revenue is up and spending has stayed pat, which is helping reduce the pool of red ink in the federal budget.

Combined, those numbers mean the government will run a deficit of $426 billion in fiscal year 2015, down about $60 billion from 2014 and marking the smallest deficit of President Obama's tenure.
SEE ALSO: Hillary Clinton heads to Ohio to boost slipping poll numbers
The good news will continue for a couple of years as the economy belatedly but fully rebounds from the recession of December 2007 to June 2009. By 2018, though, debt will rise as government spending grows and the economy will cool again, the CBO said.
"The growth in debt is not sustainable," CBO Director Keith Hall said in presenting the estimates. "At some point, it's going to get to a very high level. Obviously, you can't predict tipping points, but at some point this becomes a problem."
Democrats saw the short-term outlook as progress and said it's time to close tax breaks and bring in more revenue for spending on investments such as infrastructure.
SEE ALSO: Old Dominion University fraternity suspended for crude signs: 'Freshman daughter drop off'
Republicans kept their focus on the longer-term warnings in the CBO report. They noted that taxes will remain higher than their historic average over the past five decades but deficits will persist because spending will still outpace revenue.
Budget watchdogs pleaded with all sides to go beyond the numbers and talk about solutions to persistent debt.
"I don't know how anyone can declare victory when trillion-dollar deficits are just on the horizon," said Judd Gregg, a former senator and a co-chairman of the advocacy group Fix the Debt. "While deficits are down this year, the real story is that they are on the rise and that our national debt is at record-high levels and growing."
Watchdogs pleaded with presidential candidates to start talking about the national debt in their campaigns.
For the most part, that conversation has been muted. Democrats have called for tax hikes to pay for more spending, and Republicans generally have focused on other issues.
New Jersey Gov. Chris Christie, however, has sparred with former Arkansas Gov. Mike Huckabee, a fellow Republican presidential candidate, over the fate of Social Security. Mr. Christie argues that the program needs benefit adjustments to survive.
The CBO report said Social Security spending will be slightly lower than analysts projected five months ago because fewer people will qualify for disability payments. Still, the $66-billion-a-month payout this year makes Social Security the largest single federal program, which is projected to represent 5.7 percent of gross domestic product in 2025.
Medicare and Medicaid, the government's health care programs for the elderly and the poor, also are growing quickly and are projected to reach a combined 6.2 percent of GDP within a decade.
Defense and other basic domestic spending, however, continue to dip as a percentage of government spending and the economy, reaching levels not seen in decades.
Democrats say cuts to domestic discretionary programs such as education and infrastructure have gone deep enough and that it's time to reverse them, and they reject Republican calls for limits on growth in entitlement spending.
The CBO said the economy is recovering, though more slowly than predicted. The GDP, the report said, will grow 2 percent this year and rise to 3.1 percent next year before slowing again.
Mr. Hall said recent turmoil in stock markets has not changed those estimates.
"The economic fundamentals, at least so far, haven't been changed," he said.
In a more pressing finding, the CBO said the government has room to stave off a debt limit breach through November or December — a longer time frame than projected a few months ago. Mr. Hall credited higher tax receipts this year as the reason.
Debt held by the public will dip this year to 73.8 percent, down from 74 percent in fiscal year 2014, and will fluctuate for a few years before beginning a steady climb by 2020 and nearing 77 percent in 2025. Those are levels unseen since 1950, when the country was getting out from under the burden of World War II. WT